Chart of the week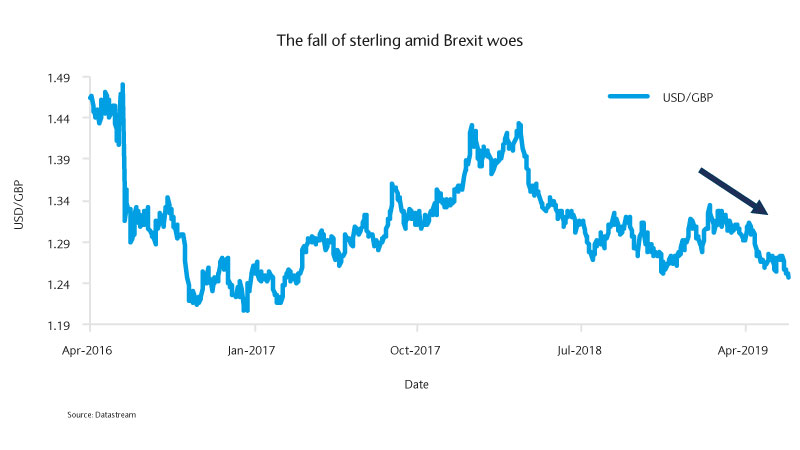 Only sterling sunshine when "no deal" goes
As investors look to avoid trade tensions and sanctions coming across the Atlantic, there is little harmony in a divided, Brexit impacted, UK. This stems from the likelihood of Boris Johnson taking the helm at 10 Downing Street in a few weeks. He plans to leave the EU on 31 October "come what may".
The betting market is priced for a close to 30% chance of a no-deal Brexit and cannot even take solace from the other leadership candidate, Jeremy Hunt, who is increasingly following the same rhetoric.
The result has been painful for sterling. The currency fell as much as 40 basis points on 9 July to 1.246 against the US dollar – the currency's lowest point since April 2017. The prospect of a Bank of England rate cut in the event of a no-deal or deteriorating economic conditions provides even less support for sterling.
The Brexit uncertainty has already made its mark, with second-quarter output expected to contract. A no-deal departure from the EU, according to rating agency Moody's, would spark a UK recession and not be the best outcome for the EU. For these reasons, we believe a resolution to the Brexit standoff is likely by the end of 2019.
Investors can expect volatility in sterling over most of 2019 and positioning should be managed accordingly to withstand it. Heightened volatility would have implications for equity markets. Although a weak sterling should benefit UK-listed multinationals with substantial overseas revenues, that report earnings in the home currency, we believe investors should remain selective in their UK equity exposure.