Chart of the week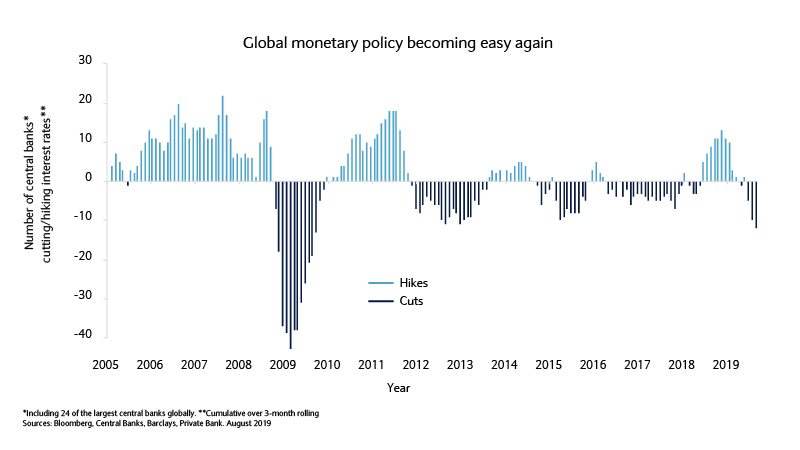 Interest rates: easy does it
The US Federal Reserve's (Fed) first cut since the financial crisis on 31 July appears to have shifted global central bank policy with it. The "mid-cycle cut" has seen emerging markets follow suit, with Brazil, Turkey, Russia, India, and Thailand delivering larger-than-expected rate cuts since.
In developed markets, New Zealand surprisingly cut interest rates and the European Central Bank is likely to lower interest rates at its September meeting. Indeed, the Fed may cut rates in the same month. Should a no-deal Brexit occur (as seems increasingly probable), the Bank of England (BOE) could also ease monetary policy soon.
The chart looks at 24 of the largest central banks globally. Over a rolling three-month period, the number of central banks cutting rates in relation to those taking no action/hiking is noticeable.
Interestingly, the recent number of global central banks' actions has pushed monetary policy to more accommodative levels than in the 2012-2013 period, when the euro area endured a recession, or when concerns around a possible "hard landing" in China emerged in 2016-2017.
In the current environment, yields will likely remain depressed, anchored down by easy monetary policy. As such, the search for yield" is set to continue and we believe that strategies aimed at enhancing income generation will remain attractive to investors.