Chart of the week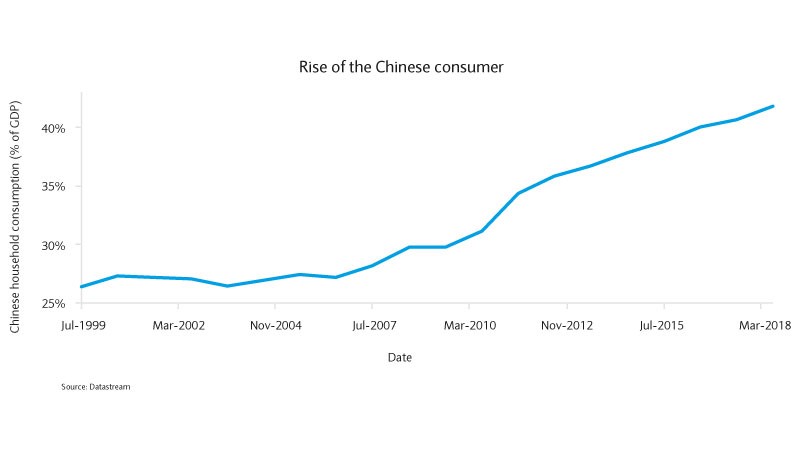 Chinese retail sales: spend, spend, spend
This week's second-quarter Chinese gross domestic product data showed retail sales growing at 9.8% year on year (yoy). The figure comfortably beat expectations, accelerating from the 8.6% yoy growth registered in June (although these figures were partly boosted by rising auto sales ahead of new environmental tariffs coming into force).
Historically we have thought of China as an arena for state investment and a manufacturing powerhouse. However, increasingly China is transitioning into a domestic consumption-led economy. In turn, the country's retail sales trends are becoming ever more important to global growth prospects and market sentiment.
Chinese household spending power has risen rapidly over the past two decades as average wages have surged and its middle class continues to rapidly expand. (The World Economic Forum estimates China's middle class will be 65% of all households by 2027). Domestic household consumption as a proportion of gross domestic product has risen from 26% twenty years ago to 42% today. Improving product supply chains, rapid digitalisation and rising urbanisation are also likely to support domestic demand in the future.
China is already the world's largest market for cars, computers and mobile phones, the country boasting 1.4bn mobile subscribers. Furthermore, Chinese consumer spending on products and services shot up to $4.7tn in 2017, from £.3.2tn in 2012, according to the National Bureau of Statistics.
A range of international brands are already profiting from Chinese consumers' rising demand for products and services, most notably in the luxury goods sector. Research shows that one in three of all luxury purchases around the world are made by a Chinese consumer. Lower price differentials with other countries, a reduction in import taxes and crackdown on unofficial suppliers have also helped to drive mainland China's designer goods sales.