Chart of the week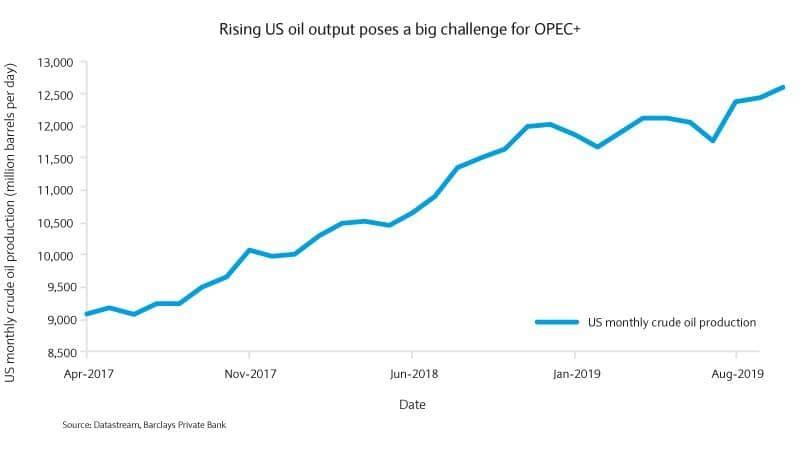 OPEC+'s dilemma
Looking into next year, markets will undoubtedly be focused on whether the Organization of the Petroleum Exporting Countries and allied producers (known as OPEC+) decide to extend cuts in oil production targets or not.
OPEC makes up a significant share of total production. Total daily production of oil, as of 4 September, was 82.5 million barrels per day (mbpd), with OPEC members producing 31.8mbpd and Russia 10.9mbpd.
OPEC+ lowered output by 1.2 mbpd earlier in 2019, with the agreement due to end in March 2020. Combined with geopolitical instability in Venezuela and Libya, tensions in the Middle East and US sanctions on Iran, the production cuts have reduced the supply of oil and been positive for the price of the commodity.
However, the upward pressure on oil prices has been offset by weakening global demand as the US-China trade dispute hits global growth prospects and non-OPEC supply of the commodity rises.
The US has significantly increased oil production over the past decade, becoming one of the largest producers globally and a net exporter, as opposed to net importer, of oil. Relative to the 82.5mbpd produced globally, the US accounted for 12.4mbpd of this.
Besides the US, supply growth from Brazil and Canada further increased aggregate supply in the non-OPEC+ world, which is now anticipated to be 1.7mbpd in 2020.
The fundamentals for oil suggests an imbalance in the market through 2020. Not only have non-OPEC+ countries (particularly the US) increased supply, but elevated trade tensions are doing little to provide upside support to oil prices.
OPEC+ members face a difficult decision in terms of making production cuts past March or not. While a continuation of the 1.2mbpd cut evidenced in 2019 seems likely, there is a possibility that further production is lowered in an effort to counter the downside pressures oil prices are facing. Such a move could increase the potential for an imbalance.