Chart of the week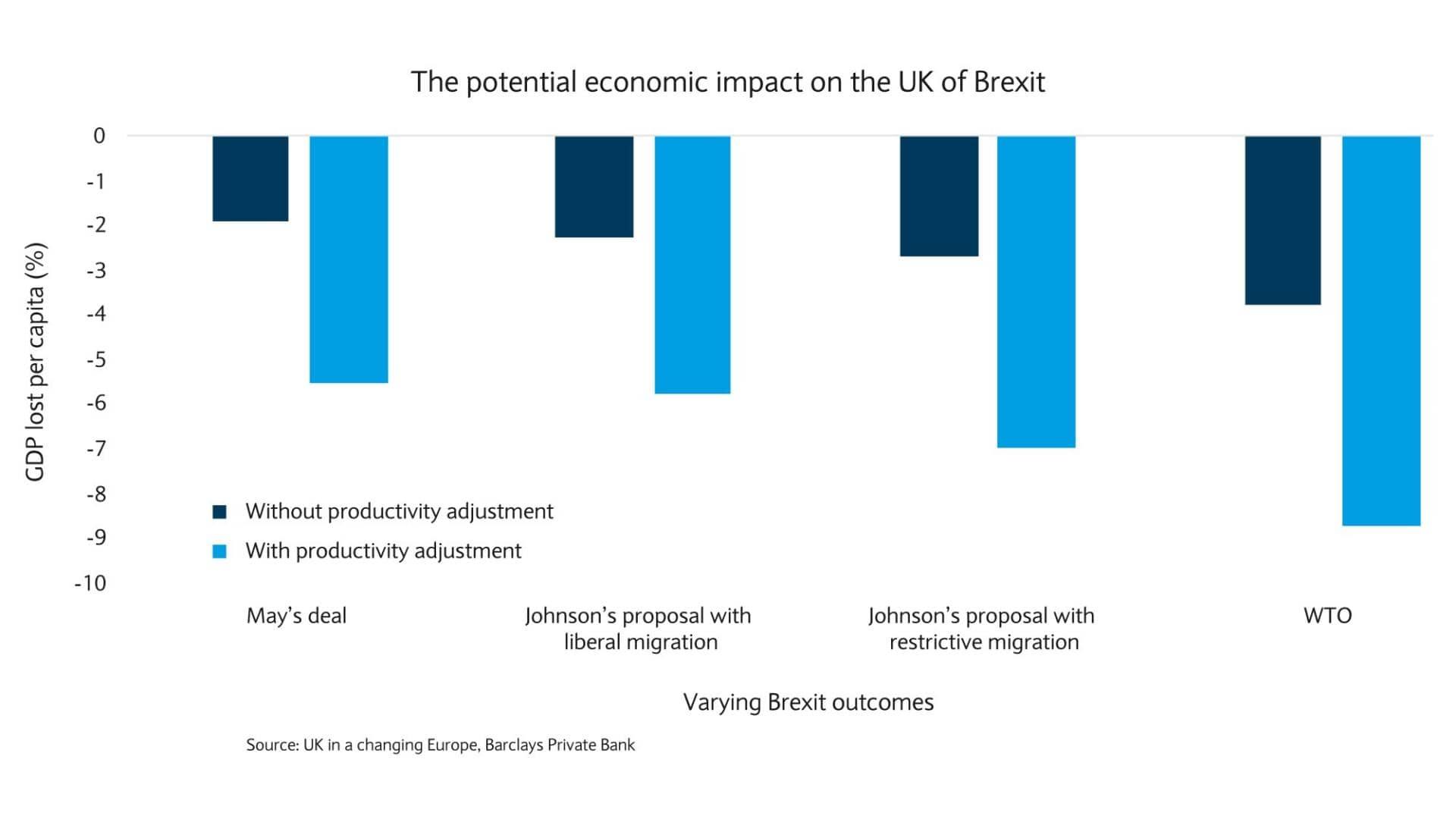 The UK in a post-Brexit world
Financial markets were correct to be optimistic that a Brexit deal was on the cards on 11 October. After talks between the European Union (EU) and the UK entered the "tunnel", the two parties reached an agreement on Thursday.
The proposal advanced by Prime Minister (PM) Boris Johnson, where only goods align with the EU, and the UK as a whole exits the customs union, gives the country autonomy in negotiating trade deals (a win for Brexiteers).
However, what does this mean in terms of economic impact?
The chart highlights how the PM's Brexit proposal might fair compared to other Brexit models, according to research published by UK independent think-tank "The UK in a changing Europe" on 13 October. It shows how much the UK's income per capita is expected to vary over the next ten years, when accounting for tariff and non-tariff barriers as well as less future integration with EU member countries. The reference point is the UK remaining in the EU.
Adjusting for productivity, Johnson's proposal with liberal migration would lower income per capita by 5.8% in ten years' time. However, as the report acknowledges, modelling economic impacts of hypothetical scenarios is "fraught with difficulty".
But need the Brexit effect really be that bad?
The analysis does not factor in changes from foreign direct investment (FDI), which has arguably been held back from the doubt over future trading arrangements. Additionally, the model does not account for changes to existing trade barriers between the UK and non-EU countries. Finally, and something which cannot be feasibly estimated, is the impact of fiscal and monetary policy choices on the economy. Given the PM's plan to loosen the purse strings, however, this could alleviate some pressure faced.
On the other hand, the PM's proposals assumed in the research is a best-case scenario. The potential downside is shown in the chart under World Trade Organisation (WTO) terms, the equivalent of a no-deal outcome.
So whichever Brexit trading model with the EU emerges, the UK's growth prospects will be reliant on FDI, strong trading relationships with non-EU countries and, likely, some additional fiscal stimulus.