Chart of the week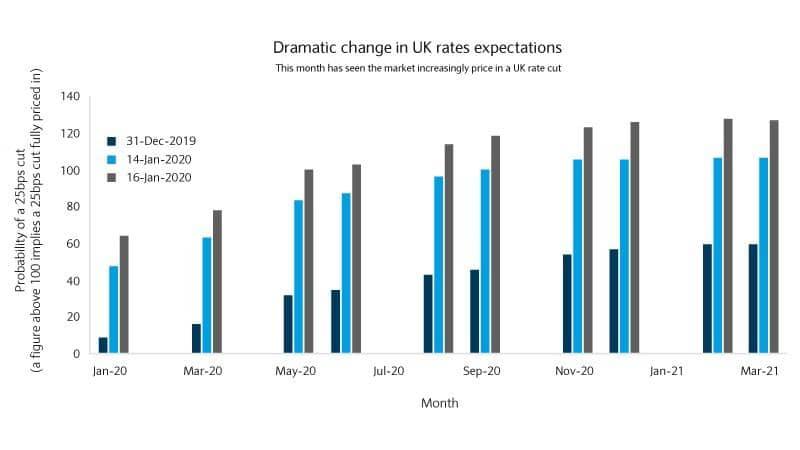 Subdued inflation and weak output: is it time for an "insurance" cut?
UK November gross domestic product (GDP) data shows an economy that has weakened but kept afloat despite businesses grappling with uncertainty. Not least the extension of article 50 and the subsequent calling of December's election.
On a year-on-year basis, GDP growth of 0.6% was the weakest since June 2012 and continues the contraction in output seen in 2019. The weakness was widespread across industrial production and the dominant services sector, which fell 0.3% month on month, the worst since February 2018.
However, the first half of the year could see modest growth, facilitated by some potential tailwinds.
The more than likely passing of the withdrawal agreement bill in parliament could support confidence and lower some uncertainty.
The March budget may pave the way for some fiscal stimulus.
The weakness and the juxtaposing potential for a recovery provides the members of the monetary policy committee (MPC) with a dilemma before their 30 January meeting.
On the one hand, they could continue to leave rates unchanged in case a recovery surfaces in the first half of 2020, as well as clarity on Brexit, and vote for a rate cut if this does not materialise. However, this would leave the risk of being reactive as opposed to proactive.
On the other hand, the MPC could provide an "insurance" cut to provide support should growth continue to stutter while running the risk of overheating the economy and generating inflationary pressure on the upside. This risk is definitely lowered by December inflation reaching a three-year low at 1.3%.
With two MPC members already dissenting in favour of rate cuts and Governor Mark Carney, Silvana Tenreyro and Jan Vlieghe starting to express concerns about the economy, the latter is looking increasingly more likely than the former.
At the time of writing, the rates market prices in approximately a 62% chance of a rate cut in January, with a 25 basis point cut fully priced in by June.