Blake Ward & Boky Hackel-Ward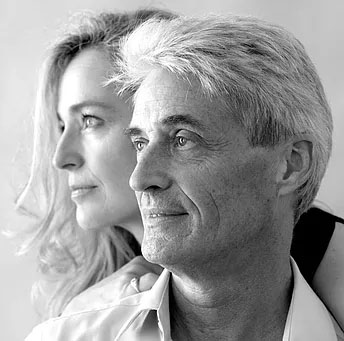 Entre Nous (Between Us) presents a fusion between the two artists, their respective work and their shared pieces. This time, this collection, although distinct, comes together to form a stronger, more powerful whole.
Blake Ward was born in Yellowknife in the Northwest Territories in Canada. In 1985, he arrives in Paris to study under Cyril Heck, with whom he learns the traditional techniques of figurative sculpture modeling. Boky Hackel-Ward is a conceptual artist; a passionate polyglot, using in one breath language, film and music, she celebrates the ephemeral. A former restorer of paintings, her passing to sculpture was the natural next step.
In March 2013, Blake and Boky started working together, enriching one another with their knowledge. Boky was able to learn Blake's techniques and enhance his experience as a conceptual artist. The synergy between them was clear from the beginning...
Their collaboration led to the evolution of the collection 'Spirits' in which the sculptures show a transgression of the classic rules, entering into abstract and ethereal domains of our inner worlds...
In their workshop in Monaco, the sculptures of a quarter of the usual size, show frgamented figures materialising before us.
Seducing and tragic at the same time, their perfect proportions reflect the hidden perspectives of the human condition. The textured exterior surface alludes to the complexity of our individuality. The open and exposed interior arouses introspection. Keeping close their love of the human figure, they lead us to the discovery of the self.
Their artistic collaboration, at the same time complex to grasp and recieve, led them to take a step back for a year, during which time they were able to partake in research and development. Blake joined the digital world of ZBursh 3D printing, mixing digital with analogical, the newest technologies with ancient and lost wax techniques.
Boky worked with clay and created the foundations of her figurative poetry collection, which aims to end suffering. This is what Blake calls intentional art, art with a goal, to cure.
Entre Nous is an encounter of art and love.